Our Chief Executive and senior leadership team is responsible for the operational management and leadership of the charity. Our Board of Trustees, many of whom have personal experience of education, oversees our work.
Chief Executive

and

Directors
Sinéad Mc Brearty, Chief Executive

Sinéad Mc Brearty is CEO at Education Support, the mental health and wellbeing charity for the education workforce across the UK.  She advocates for a systemic approach to wellbeing for the education workforce, attending to the individual, the workplace and the wider policy environment. 

Sinéad began her career at KPMG before moving to leadership roles in the not-for-profit sector. She has worked as an organisational development consultant and a lecturer and has been a trustee at a number of charities including Kaleidoscope Trust and Groundswell.  She is a currently a governor of a south London primary school.
Paul Lismore, Director of Resources

Paul is a qualified Accountant who has worked across the commercial and not for profit sectors. He has worked in the charity sector for almost 20 years, 15 of which have been as a director managing the finance and broader resources functions. Prior to joining Ed Support Paul led the Resources function at Contact, a disability charity in Old street, helping steer the organisation through a period of significant change.

Outside work Paul is keen reader and likes getting away to visit European cities.
Faye McGuinness, Director of Programmes

Faye is responsible for the development of our services and programmes. Prior to joining Education Support Faye's role was Head of Workplace Wellbeing Programmes at the mental health charity Mind, where she led on the development of Workplace Wellbeing programmes including the Mentally Healthy Universities Programme. Faye was responsible for the development and running of the Mental Health at Work website, launching the Our Frontline campaign in response to Coronavirus and leading Mind's response to the Stevenson-Farmer review of mental health and employers 'Thriving at Work'. Faye feels incredibly passionate about supporting better workplace mental health and making an impact across the education sector.

Faye is a huge fan of live music and can be usually found dancing in a field, singing badly! Faye is also a trustee for the charity Music For All, which is dedicated to changing lives across the UK by improving access to music making.

 
Gemma Scotcher, Director of Communications and Public Affairs

Gemma Scotcher is Director for Communications and Public Affairs at Education Support. She has a background in corporate public affairs and crisis communications for brands the technology, healthcare and arts & leisure sectors. She is a former a board director for the Brighton charity LGBT Switchboard, and is currently a listening volunteer for the Samaritans. She is also a passionate mental health advocate, with training in psychotherapy and analytic psychology.
Our Board of Trustees govern our activities. They meet on a quarterly basis to review progress against key objectives.
The Board makes all strategic decisions and delegates responsibility for the operational management and leadership of the charity to the Chief Executive supported by the Leadership Team.
Financial procedures set the financial limits for decision making at varying and appropriate levels from Board level downwards. Trustees are heavily involved in strategic business planning with the annual Business Plan requiring Board approval.
The Board of Trustees organises itself into committees in order to explore particular areas in more depth and report back and make recommendations to the Board as a whole.
We have 13 Trustees in place:
Board of
Trustees
Sean is CEO of IMPOWER, the award-winning independent consultancy focusing on change and transformation across all local public services. The first half of Sean's 30+ year career was spent in local government working in finance-related roles at the London Borough of Camden and Fareham Borough Council. He has also worked in the private sector focusing on public/private partnerships and business development. In 2016, Sean joined Local Partnerships from Serco where he was Managing Director of UK Citizen Services. Sean joined IMPOWER in August 2022.

In October 2023, Sean was elected onto the Board as a Non-Executive Director for SOLACE (Society of Local Authority Chief Executives and Senior Managers). He is also a former Chair of an independent Muti-Academy Trust.

Sean holds IRRV (Hons) and CIPFA qualifications and is a CIPFA Fellow.
Emma is Executive Director of the National Association of School-Based Teacher Trainers (NASBTT), which promotes high-quality schools-led programmes of training, education and professional development of teachers. Emma was appointed in 2017 having previously been a Trustee at NASBTT for 18 months. She was also formerly Head of a Teaching School Alliance and ran a SCITT.
Rachelle has been in business leadership and marketing communications roles for over 20 years, working with some of the world's biggest brands and at some of the UK's most famous advertising agencies.

As a Managing Director at Saatchi & Saatchi, she built the agency's specialist capability in retail including integrating social, mobile, ecommerce, and specialist design capability, in order to build the business and deliver profit to the group.

Her leadership experience includes the transformation of business operations and culture, through better use of technology and a holistic approach to talent development. Rachelle has helped businesses drive growth sustainably and is as passionate about quality of expertise, as she is about commerciality.
Gareth is a career civil servant who joined what was then the Department for Education and Skills in 2003. Since then he has worked mainly at the Department for Education (under its various names) as well as an Education Advisor at the Department for International Development. 

During his time as a civil servant, Gareth has worked on education policies from early years through to higher education, and has spent the last few years focused on teacher and leader continuing professional development.  Alongside this, Gareth established a wellbeing network at the Department for Education and gives frequent talks on wellbeing and mental health across Government.  Outside of work, Gareth is a married father of two.
Adam works at youth charity Impetus as Investment Director. Impetus supports a portfolio of education and youth employment charities with funding, capacity building, and pro bono expertise.

Prior to Impetus, Adam was Chief Executive of education charity Talent-Ed Education. In this role Adam worked closely with current and former teachers to provide small group tuition to young people from disadvantaged backgrounds. This gave him first-hand exposure to the pressure and stress that teachers experience.

Earlier in his career Adam worked at strategy consultants BCG, and in international development research.
Debbie is an accountant and HR professional with many years' experience leading corporate services latterly in interim C-Suite roles in large publicly funded organisations going through periods of transformative change.

Debbie is founder of the Institute for Continuous Improvement; a charity working to embed best practice in the delivery of public services. She has extensive Board and Committee experience and presently chairs the Governance and Audit Committee at West Yorkshire Combined Authority.
Steve Wharton FRSA, SFHEA, Chevalier dans l'Ordre des Palmes Académiques, is an academic with nearly 35 years' experience in Higher Education, as senior lecturer, manager (including interim Head of Governance), and governor. He has served on, and chaired, a number of charity boards in the fields of education and public engagement, and was a Non-Executive Director of the Universities' Superannuation Scheme 2016-2020. The last national President of the Association of University Teachers and first joint President of its successor UCU, he understands both the industrial relations context of post-16 education and the challenges its members face in and out of the workplace.
Mark has spent his entire career in B2B software and is currently the Chief Marketing Officer at Infront, a specialist software company in the financial services industry. Prior to that he was Vice President of Marketing Transformation at Infor and Chief of Staff to the CMO for EMEA & APAC at Oracle. His business passion is driving the transformation and scaling of marketing teams, processes, communication, and metrics as part of a customer-centric go-to-market strategy. Mark earned his degree in Applied Mathematics and Computer Science at the University of Waterloo, Canada.
With 18 years dedicated to the field of education, Roxanne's journey has taken her from the classroom, to leadership positions, culminating in her current role as Deputy Headteacher. She will imminently take on the responsibility of Acting Co-Headteacher at a prominent London secondary school.

Roxanne has honed her expertise through a rich academic background, holding a Master's degree in Race, Education, and Decolonial Thought. Her keen involvement in various facets of education extends to the vital role she held as a member of the pilot advisory board for Contextual Safeguarding in Hackney.

In addition, Roxanne recently made a significant contribution to the educational field with the publication of a report investigating the factors influencing the departure of Black and Ethnic Minority senior leaders from schools, thereby elevating the discourse surrounding diversity and representation in education leadership.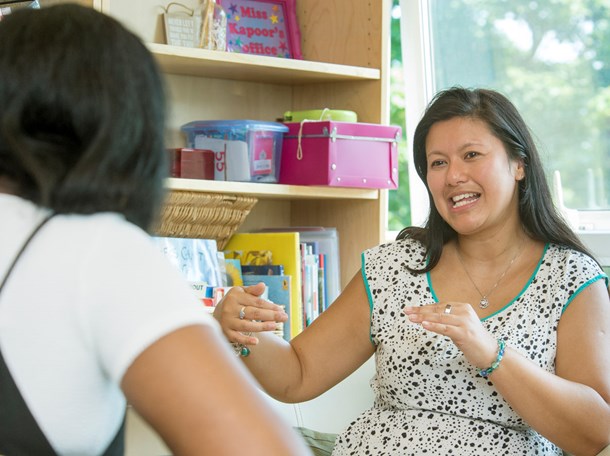 History
Established by teachers for teachers, we have been supporting teachers and education staff for 144 years!