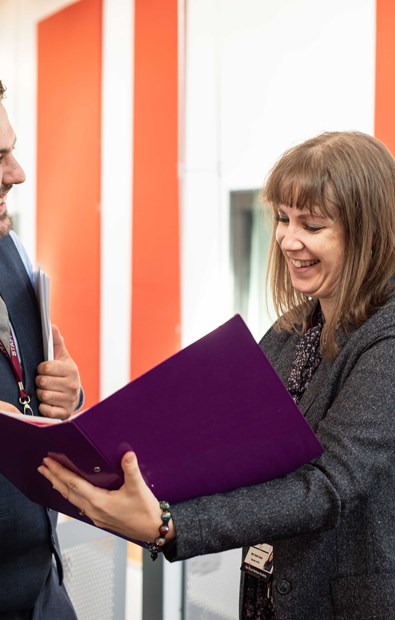 How to leave a gift in your Will
Thanks in part to gifts in Wills, Education Support can be there for teachers and education staff whenever they need us, day or night.
Thank you for considering leaving Education Support a gift in your Will. Gifts like yours are vital to teachers and education staff everywhere in the UK, making sure that we can always be there for them. Large or small, every gift is hugely valuable and gratefully received. 
What types of gift can you leave?
The most common types of gifts left in Wills are:
Residuary gift: the residue (or a proportion of the residue) of an estate after all other gifts, debts and expenses have been paid.
Pecuniary gift: a fixed sum of money. This type of gift will, over time, reduce in value because of inflation. If you want to future-proof your gift, you can ask your solicitor about index linking your gift so that it increases in value in line with inflation.
Specific gift: a particular asset such as a property or an investment
Reversionary gift: a two-stage gift where assets are first held in a trust to provide some benefit to an individual. This could be a property for them to live in or income generated by investments. Once that individual's need for the property or trust ends, the asset then passes to a second beneficiary, such as a charity
If you have any questions about the type of gift you would like to leave in your Will, we recommend that you speak to a solicitor.
How do I include Education Support in my Will?
We recommend that you use a solicitor or a professional Will writer to write your Will. The cost is relatively modest, and it can reduce the likelihood of your wishes being challenged after your death. You can inform your solicitor or Will writer that you wish to leave a gift to Education Support, and they will help you include it in your Will
We operate a free Will writing service that enables you to have a simple will drafted at no cost to yourself
We've partnered with Farewill to provide this service, which gives you the option to include a gift to Education Support and will help you to do so.
If you use the Farewill service, you are under no obligation to leave a gift to charity, but we really hope that you will be inspired to leave a legacy of learning by pledging a gift, large or small, to Education Support
The legal description that should always be used to describe Education Support in your Will is:
Education Support, 40A Drayton Park, London N5 1EW (registered charity number 1161436)
Making a simple change to your Will
Small changes can be made to your Will without revoking the original version using a legal document called a codicil. A codicil is completed in the same way as your Will, and should be stored with your Will for safekeeping.
Please see below for suggested wording to use if you want to change your Will to include a gift to Education Support.
We would recommend that you check with your solicitor or professional Will writer before making any changes to your Will, to ensure that your wishes will be met.
Making a significant change to your Will
It is a good idea to review your Will regularly, especially when your circumstances change. Significant life changes can often lead to a shift in priorities, and you may change your mind about how the causes that you wish to support. If you want to make major changes to your Will, you may feel that you need to write a new one, revoking any previous versions. We recommend that you talk to your solicitor or professional Will writer to make sure that your new Will clearly reflects your wishes, and that it is drafted and executed correctly.
Specific legal wording for your Will
If you are leaving Education Support a percentage of your estate (also referred to as a residuary gift)
I give …. percent (…%) of the residue of my real and personal estate to Education Support of 40A Drayton Park, London, N5 1EW (registered charity number 1161436) and the receipt of a duly authorised officer for the time being of Education Support shall be sufficient discharge for my executors.


If you are leaving Education Support a set sum (also referred to as a pecuniary gift)
I give …pounds (£….) to Education Support of 40A Drayton Park, London, N5 1EW (registered charity number 1161436) and the receipt of a duly authorised officer for the time being of Education Support shall be sufficient discharge for my executors.


If you are leaving Education Support a particular asset (also referred to as a specific gift)
I give my… (insert description of the asset) to Education Support of 40A Drayton Park, London, N5 1EW (registered charity number 1161436) and the receipt of a duly authorised officer for the time being of Education Support shall be sufficient discharge for my exectors


If you are considering leaving assets in trust which will pass to the charity once any life interest has ended (also referred to as a reversionary gift)
Please consult your solicitor or professional Will writer. They will be able to provide you with an appropriate form of wording, as this can be a complex area depending on how you want the trust to operate