Compassionate leadership
Compassionate leadership is the key to open the door to a school culture that puts wellbeing at its heart. For World Mental Health Day Emma Kell talks to six school leaders about how they do it.
"People will forget what you said, people will forget what you did, but people will never forget how you make them feel."

Maya Angelou.
Compassion in school leadership is so much more than kindness and empathy. In fact, when speaking to each of the leaders in this piece, it became clear that compassion is about everything we do in schools. For Emiley, it's at the heart of her job as headteacher. "Staff are compassionate to the children. It's our job to be compassionate for them so it trickles down".  For Vania, it's quite simple. Compassion means "you care – you care about yourself, you care about the other staff, all stakeholders'"
Fundamentally, says Rachel, compassion is the desire to "connect with someone's distress and want to alleviate it". Where 'compassion satisfaction' is achieved, the desire to 'make a difference' is fulfilled, which results is high levels of job-satisfaction and wellbeing. However, where the cumulative impact of feeling you're taking on others' distress but are powerless to help, 'compassion injury' can set in, with symptoms akin to those of PTSD.
It is very clear that leaders can't be compassionate towards others without showing compassion for themselves: "you can't pour from an empty cup", says Kari. "You have to put on your own oxygen mask, or you won't have enough energy to be compassionate," says Vania. (See Leaders with Lives)
Compassionate leadership, values and relationships
A shared ethos and shared goals are fundamental to compassionate leadership and the best interests of the children are at the very heart of this. Ethos and values are more than just words in big letters on a wall for all of these leaders – they guide every decision, action and interaction.
"Whatever you are doing, you should be driven by the question, 'is this in the best interests of the children?" says Kari. "If you can hand on heart say it's in the best interests of the children, you can be bold and brave and compassionate".
If leaders foster a sense of true togetherness, it's ok to slip up. As Steve puts it, "We can all have bad days because we prop one another up. If you fall because you've got something wrong and you can't get yourself up, the next person behind you will help you get up".
Whilst these compassionate leaders each clearly display optimism and a fundamental affection for fellow humans, they are each quite assertive when it comes to poor practice or an unwillingness to align to the values of their schools.
"Support is always offered because nobody comes to work to do a bad job, but if it becomes clear that the staff member isn't giving the students what they deserve, this is essentially 'stealing from children'" says Steve.
Managing time to be present and aware: the small things really matter
It's important that compassion isn't necessarily about grand gestures – the small things make a huge difference to remind staff they belong and that you care.
Steve devotes the time reading weekly line-management meetings notes every week – the first question is 'How are you?' and it's asked twice by line-managers. This way, he has access to information that's important to staff – a sick relative, a successful course completion – and can react accordingly.
For Kari, remembering that a colleague did a sponsored swim at the weekend and popping in to ask them how exhausting it was it a sign of validation and a reminder that there's more to life than work.
Compassion and communication
Communication is always tricky in schools, where time is squeezed and the amount of contact with adults is seriously limited. A question or piece of information might seem urgent to the school leader, but catching someone in a corridor is often unwise and inconsiderate. Emiley takes it back to the needs of the children and asks herself: "Is that message at that point going to help that teacher or that LSA about to walk back into that busy classroom?"
Where conversations are 'robust' and potentially difficult, all of the leaders refer to going back to their key aims: this is always about what's best for the children. If there is a difficult conversation to be had, think about timing, spaces, time to respond and know your staff. Who's likely to get upset? Give them a space by the door, says Steve, so they can leave quickly and come back to them later. Whatever happens, these conversations can't be ignored. "I approach difficult conversations full-on because the staff would expect nothing less from me. I say it to their face," he says. 
Compassion and discretionary effort: 'Humans First' 
The 'humans first' mantra coined by Mary Myatt is central to staff wellbeing and morale.   Every conversation with these school leaders turned very quickly to absence policies. The desire to give staff the chance to actively 'be human' – as parents, pet owners and those grieving in the aftermath of a death of a loved-one takes priority for these leaders, though it is clear that balancing budgets, staffing strains and the desire to ensure the children get the best deal makes it a very tricky balancing act.
For Sarah, it comes back to remembering how she felt early in her career when the 'rules' around time off were rigid:
"I started teaching when my daughters were very young. My headteacher would not allow staff time off for anything other than a funeral of your closest relatives. When I left an abusive relationship, I was given half a day to find somewhere for myself, the children, and 2 kittens to live! So, I allow my staff to attend their children's first day at school, their school plays and concerts and their graduations – they are special memories to be treasured."

Sarah Hussey, headteacher
It's the same with important medical appointments: "You don't choose to have a gynaecologist appointment. Why would I not want you to stay fit and healthy?"
Funerals are a common theme – many official local authority policies state that time can only be granted for close relatives, but to be a compassionate leader, you need take each case individually. As Kari puts it:
"Nobody chooses or wants to go to a funeral. If someone is asking to go, the chances are they need to pay their respects. Being able to offer them that compassion at a time of great grief in allowing that opportunity means they have a greater respect from the school and you get the best from them, which means that the young people benefit because they have members of staff who are dedicated, loyal and committed."
Kari's words here capture the notion of discretionary effort – the willingness to give more of your effort and time to work over time because of a sense of loyalty to the organisation.
Compassion, systems, policies and procedures
I don't know many school leaders who get much joy from sitting and writing policies, schedules and codes of conduct but the older I get, the more important I know they are. To feel safe and fulfilled, staff need to know what their job is, how to do it successfully and where to go when they struggle. Without rigorous attention to detail, they're at sea. This is the stitching behind the tapestry – the hard graft behind the purposefulness, joy and calm in the corridors and classrooms.
Compassion can't exist in a void, and each of these leaders and their teams have put great efforts into ensuring these policies are robust and clear and form the foundations of compassionate organisations.
Myth busters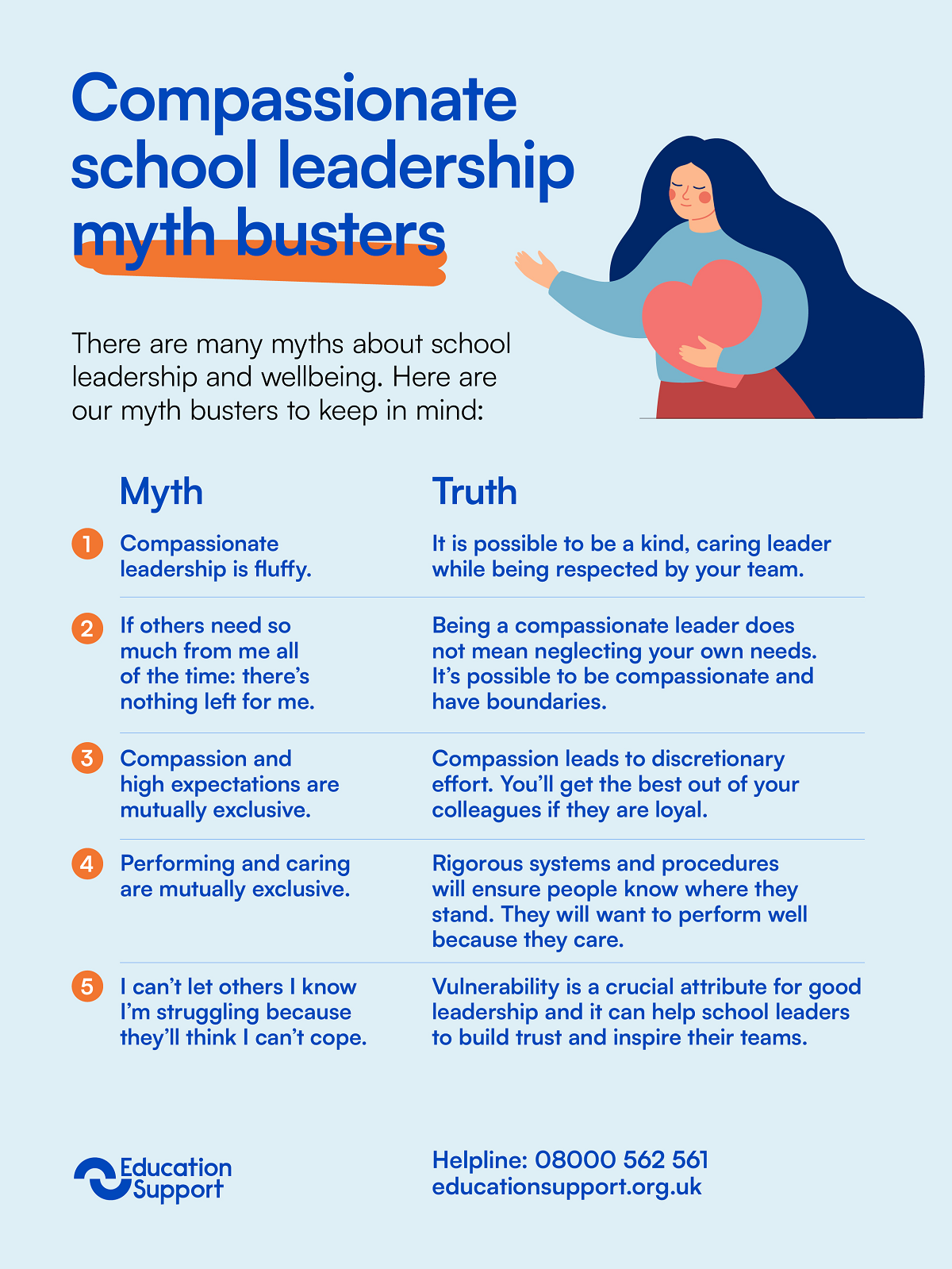 Contributors
Special thanks to those who gave my their precious time to contribute to this piece by way of interviews on the subject of compassionate leadership. Dr Rachel Briggs supports educators with their psychological wellbeing through supervision, training and research. Steve McShannon is headteacher of an Education Support Centre – a secondary provision for young people excluded from mainstream schools – in Hertfordshire. Sarah Hussey is a primary school headteacher on the Isle of Wight. Vania Eaglen is headteacher of a primary school in Buckinghamshire and Emiley Davies is headteacher of a primary school in Redbridge. Kari Anson is headteacher of a special school in Rotherham for Children with SLD and complex medical need. 
They have each given permission for their identities to be shared, but sensitive details relating to individuals are of course anonymised and ethical considerations have been taken into account.
Further reading
Rachel's dissertation: https://research-information.bris.ac.uk/ws/portalfiles/portal/281718007/Final_Copy_2021_07_01_Briggs_R_EdD.pdf
https://www.stylist.co.uk/health/mental-health/mental-health-workplace-how-to-talk-to-manager-employer-mental-illness/206838/amp
https://mentallywellschools.co.uk/reflective-supervision-in-education-what-it-is-and-why-its-needed/
Dr Rachel Briggs' published article on Compassion Stress Injury in: https://issuu.com/williamclarence/docs/wism_issue_4_final
Strauss, C., Lever Taylor, B., Gu, J., Kuyken, W., Baer, R., Jones, F. and Cavanagh, K. (2016). What is compassion and how can we measure it? A review of definitions and measures. [online] Clinical Psychology Review, 47, pp.15–27. Available at: https://www.sciencedirect.com/science/article/pii/S0272735816300216 [Accessed 3 October, 2022].
Sinclair, S., Beamer, K., Hack, T., McClement, S., Raffin Bouchal, S., Chochinov, H. and Hagen, N. (2017) Sympathy, empathy, and compassion: A grounded theory study of palliative care patients' understandings, experiences, and preferences. Palliative Medicine, 31(5), pp.437–447.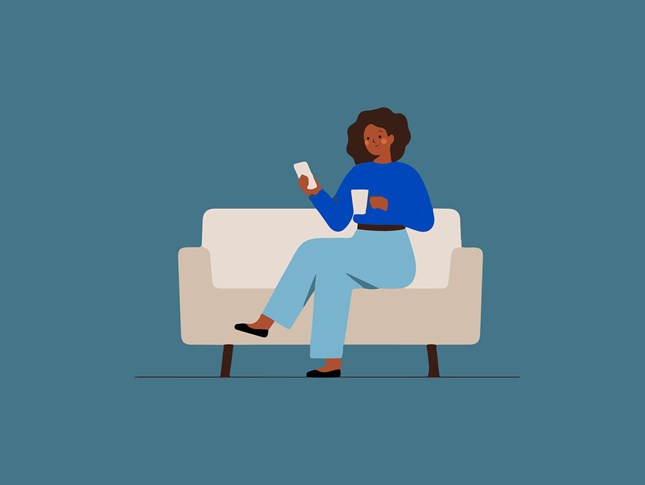 Employee Assistance Programme
Our service provides emotional and practical support that helps you and your colleagues thrive at work. 
Employee Assistance Programme