Tips for team leaders and managers in education settings
This set of tips will help school and college leaders and managers to ensure whole-school wellbeing and resilience by delivering psychologically informed leadership and look at how self-care for leaders translates into care and leadership for everyone.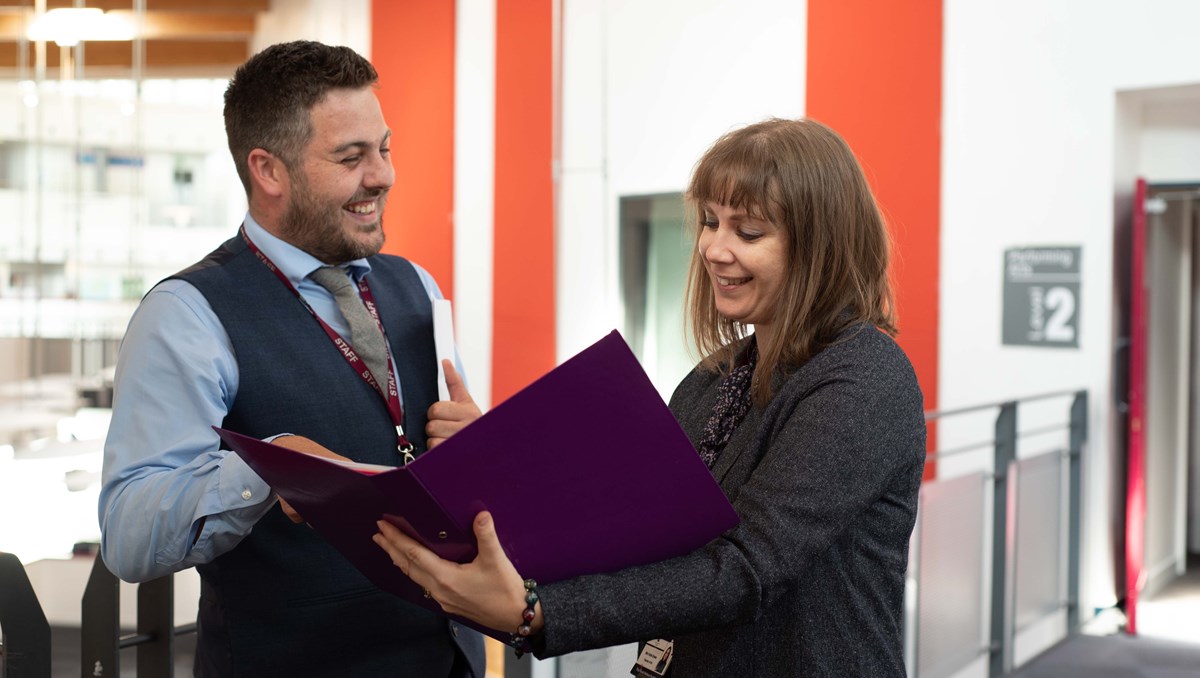 Created in partnership with MindEd
This set of tips from our international panel of experts adapted for education staff are intended to help education setting leaders and managers to:
ensure whole-school wellbeing and resilience by delivering psychologically informed leadership
remember that self-care for leaders translates into care and leadership for everyone; the whole school/college
know that such leadership supports the Seven Nolan Principles for public life: accountability, honesty, integrity, leadership, objectivity, openness, and selflessness
enhance the school/college's core learning purpose 
There are two main sections; 'things to know' and 'things to do'.  Take your time so you use this resource as works for you. The headline tips give rapid access advice and the drop-downs beneath each tip provide more detail.
Things to know
Leaders in our education settings have a really hard, complex and multifaceted job. The COVID-19 pandemic has added further layers of challenge and complexity. This is the fourth  set of tips in this series specifically designed for education staff, intended to provide evidence-based support in these times of challenge.
As a school leader you have multiple overlapping areas of control, influence, and interest. You are responsible for the education and wellbeing of the whole school. You also have a key role in meeting the health and social care needs of pupils, families and staff alike.. This is indeed a complex 'system'.
You lead this complex organisation, employing high numbers of staff, with major financial responsibilities too. You have to think big (encapsulating the educational vision) and think small. All this with the added complexity of being responsible for hundreds of children's learning and safety whilst ensuring the wellbeing of the whole school community. It is no wonder that leaders sometimes forget to look after themselves. Education Support's Teacher Wellbeing Index 2021 (see resources for more info), 84% of leaders report that they feel stressed, and more than half say they always go to work when they are unwell.
Good relationships are the key to thriving education communities

Leaders and managers who have a good understanding of how positive relationships work, are in a better position to support their own wellbeing and the mental health and wellbeing of their team – benefitting the whole community.

There is a link between a leadership style which engages staff in ongoing learning and development, and wider professional wellbeing. A good leader is interested in the wellbeing, professional performance and development of all the staff in the setting and involves staff in decision and policy making. This in turn, supports children and young people to learn well and become good citizens, as modelled by staff.
A good leader looks after themselves, so they can care and provide leadership for everyone in the setting

Keep healthy
Role model self-care. Provide good working conditions, including breaks, treats, toilet and rest facilities. This can include involving staff in decisions which affect their workload. Create a culture where wellbeing is at the heart of decision making.
Stay safe
Ensure a safe environment for all, encouraging all members of the community to notice unsafe practice and support each other towards positive change, including in relation to any discriminatory behaviour. Focus on psychological safety, as well as physical safety
Belong
Communicate a shared vision for education and wellbeing.
Allow the team to flourish, but never at the expense of the few. Support staff to connect back to their purpose
Feel good
Develop their own understanding of psychosocial resilience and strategies to support this
Prioritise the development of all staff and specifically encourages training that supports mental health and wellbeing
Give back
Upskill staff to support each other, informally and more formally through peer supervision and mental health training

In the midst of a crisis, it can be important for leaders to go into 'command and control' mode; stepping up to take charge. This mode is not sustainable for the leader or the team.

Many refer to educational leaders as the unsung heroes of the COVID-19 pandemic. That may be true, but there is a danger of forgetting that school leaders often manage intense and difficult crises within their education settings on a regular basis. Children and staff may be affected by abuse; trauma; bereavement; life limiting illness; racism; exploitation; war; loss. Each is a major issue or event in itself, requiring psychologically informed leadership. It has ramifications for the person and the wider school community. It is all part of the role that you take on as a leader, but one which can take its toll.

In troubled times, leaders deal with what is in front of them, stabilise the situation, make things safe and seek the normal in abnormal times. Crucially, good leadership also stops and plans beyond the crisis, offering hope for the future and helping to build psychosocial resilience.
Good relationships are the key to educationally thriving communities

Psychosocial resilience should be seen as a dynamic process: it changes over time
Seeking support and/or making changes proactively helps to build strong resilience
Relationships are key, and are supported by appropriate responsibility taking and adequate resourcing of tasks
Leaders make their staff and students feel appreciated and valued –acknowledging and encouraging their contributions regularly
A fair policy, strategy and resources to support professional supervision, benefits all staff and promotes good relationships
Leaders support a culture of ambition based on growth mind-sets to help develop all students and staff
Leaders hold the balance between the responsibility of the organisation and the individual

It can be tempting to think that the responsibility to be resilient lies only with the employee; this is largely wrong. The ethos and actions of the organisation affect each employee's psychosocial resilience in major ways
Each education setting has its own strong culture which will have developed over time. There are benefits and disadvantages in all workplace cultures; managers should be aware of these and mitigate the potential negative aspects of workplace culture
There will be times when a staff member's mental health will impact on their performance in their role. This can become a downward spiral without the right support. As a leader, this can also be a stressful situation, as it feels like a balance between the needs of the staff member and the pupils. It doesn't have to be an either/or situation. Consider how you can build a team around the staff member to support them - in school and out - and ensure the staff member is involved in any decisions affecting them. Consider how you can build support for yourself in this situation too. We have more tips here:
Your principled, value led leadership will support the wellbeing of your team

As a leader you can build a culture of wellbeing and psychosocial resilience within your team by becoming aware of your own feelings, fears and motivation and by demonstrating trustworthiness, transparency, and integrity
Prioritising time and resources for your own regular supervision or coaching will benefit your values led leadership

Your role impacts positively on your team

Strive to treat all members of the education staffing team fairly, recognising the role each team member plays
Encourage the expression of positive emotions (e.g. gratitude, mutual support, determination, pride, and optimism) even in difficult circumstances
Communicate openly with your team about challenges which may affect their wellbeing and be responsive to concerns the team members might raise
Assess risks and share strategies with your team to assess the risks they face too. In knowing the risk, you can all find ways to reduce these factors and face forwards
Manage and support staff with clarity of purpose, fairness, and the aim of helping all to flourish in the workplace
Enable empowerment of team members through voice, choice, knowledge and skills
Be aware of the impact of you and your team members' language, words, emotions, and behaviours. The impacts are reciprocal and matter
Acknowledge expected thoughts and feelings (also known as validation). It helps people feel listened to
Be aware of your own core beliefs, social positioning and biases and how these things can influence your workplace, your colleagues and the learning environments
Help others to see that empathy and kindness in action can reduce tension and encourage cooperation in the team
Wherever possible, lead collectively and collaboratively
Make active efforts to overcome any reluctance to speak about psychosocial wellbeing at work. Ensure you have the skills and confidence to have wellbeing focused conversations with your team
Model calmness, kindness and compassion wherever you can, even in extreme situations. Seek support from each other to achieve this, including for yourself

As a leader endeavour not to…

Ignore indicators of potentially more serious problems within the team, which need to be addressed by you or another professional: little and achievable is better than waiting for crisis point
Shy away from having difficult conversations or avoid giving feedback where needed to keep people 'happy'

You may want to rehearse a conversation with a trusted colleague if you are anxious. Or prepare by writing a list of key points you want to get across. Be guided by how you would like someone to raise something with you, even if that were to make you uncomfortable for a while
Shying away can cause more issues as people generally know when something is going wrong

'Control with kindness'. It can be easy, when you hold the power, to make decisions for others about what you think will be best, e.g., insisting that a staff member take two weeks' compassionate leave, but being less than pleased when the staff member needs time a couple of months later. Try not to bamboozle with generosity, but instead listen to what the staff member needs and offer supportive boundaries
Allow a culture of teasing or banter, when the 'humour' is not fair or reciprocal
Rely on hierarchical structures and practices
Expect privileged treatment solely because you hold more power within the team structure
Let members of the team become isolated. Isolation diminishes resilience
Take on extra roles for the team in order to impress others, when the team may not be able to carry them out safely or without undue stress: this is negative for trust, wellbeing and team resilience
Make reactive decisions in aspects of policy or practice that would benefit from more consideration and a better evidence base. Quick decisions can impact on workload or wellbeing of staff and goodwill might be harder to win back even if you U-turn your decision
Look out for signs of stress and burnout within your team. That includes you! Early warning signs may include:

Overworking, underworking or declining performance
Negative impact on home life, or home life negatively impacting on work: this tends to show by losing the joy element of home life or work life, see the diagram of spiral to exhaustions and burnout
Exhaustion -this can show in many ways including errors, misjudgements, irritability, illness, angry outbursts and other out of character behaviours
Accidents
Sick leave and or presenteeism
People becoming disengaged, for example they may uncharacteristically fail to finish pieces of work
Becoming irritable or getting into conflicts with colleagues and pupils
Increasing their use of unhealthy coping strategies such as cigarettes or alcohol
Remember, the aim is to build psychosocial resilience and wellbeing within the team

More supportive and resilient teams will help to mitigate some risks for individual team members
Here are three tools to help you build wellbeing and support resilience

These three tools could be embedded in your whole-school approach:

The 5 Rs; a mnemonic to support relationships, connectedness, self-regulation, wellbeing and psychosocial resilience
The four principles of "PIES" for supporting others after trauma
Psychological First Aid (PFA) - simple ordinary steps for everyone
The Five Rs - a mnemonic to support relationships, connectedness, wellbeing and psychosocial resilience

This is a map, and mnemonic device, for five key actions that will help your leadership and daily team working
Remember to think about relationships, recognising distress, supporting reflection and self-awareness, supporting emotional regulation and building psychosocial resilience
Emotion regulation is:

- maintaining a level of arousal

- maintaining a level of emotion that is manageable and in balance 

- helping to keep emotions at a level that is conducive to thinking clearly and acting rationally

- considered an important component of a feeling of wellbeing
The four principles of "PIES" for supporting others after trauma

The four principles of PIES come from experience in the military. They can help you to provide quick support soon after a trauma
Psychological First Aid (PFA, World Health Organisation 2020) - simple ordinary steps for everyone

Remember to look for signs of distress, listen and support, and consider further links and supports
Use good listening skills throughout

You can find out more about any of these strategies in our wellbeing for education return resources.
Things to do
Put on your own 'oxygen mask' first, so you can help others put theirs on

Keep healthy
Keep your body in good shape with healthy living habits, including enough regular sleep. These elements are often the first things you let go, so plan and pledge to maintain some healthy habits in the difficult times too
Stay safe
In the thick of events, when you need to keep going, make a mental note of the need to recover when it's safe and sensible to do so.After a traumatic event take extra care when driving or doing anything potentially dangerous; put off difficult and demanding tasks temporarily.
Belong
Maintain positive relationships with those around you. Allow the team to flourish, but never at the expense of the few. Support staff to connect back to their purpose.
Feel good
Preserve leisure time; even a short, shared walk can make a big difference. Rehearse a script and expressions for times when you are caught in a situation and don't know how to respond – this will give you time and space to respond in a more measured and appropriate way.
Give back
After any event allow yourself time to reflect without blame, "how did I look after myself", "did colleagues demonstrate resilience", "how did we do as a team"? Don't get stuck in this phase though, keep it time limited, make note and share lessons in the event of a 'next time'.
Notice people's strengths and speak about them
Share pride in people's achievements
Be honest, fair, and transparent about the challenges and ambiguities staff face
Make time and space for social connection. If social distancing makes this more difficult, find and share ways that work for people
Make sure you know if a staff member is away from home, family, and friends. Overseas staff may not have their own networks close by. Encourage 'buddy' or peer support within teams
Recognise signs that a staff member is isolating from colleagues. Make sure your support systems are robust enough to help individuals who don't find comfort in colleagues
Make sure you know the individual learning needs of your team and adapt your communication to meet those needs, e.g. a staff member who is autistic will need more notice for change, a staff member who is dyslexic may need more time to process information
Support staff to share their lived experience with colleagues to develop understanding
Take time to listen and find time to acknowledge personal events and details that are important to individuals, from a personal, cultural or religious context.
Allow time for questions from your colleagues
Be aware of staff who are already vulnerable (e.g. with pre-existing medical or mental health difficulties) and make regular times with them to update plans together on how to manage at work and at home
Take a lead on reducing any stigma in relation to mental health and wellbeing

Stigma comes from ignorance and prejudice. Learn and better understand your own unconscious bias around mental health so you can lead by example
Encourage those with lived experience of mental health problems to share their stories – this is one of the most powerful ways to break down stigma
Help to build psychosocial resilience by encouraging early support seeking through the training and systems you provide
Managers, leaders and staff often worry that acknowledging emotions will look to others like they are not coping and hamper their promotion prospects. Making support for mental health and wellbeing normal in your setting helps to reduce these additional anxieties
Promote a shared vocabulary for talking feelings and mental health in which everyone feels comfortable
Remember, resilience is not the same as pretending nothing is wrong. Encouraging a team member to be overly stoic in carrying on as though nothing is wrong, can risk burn out
Sometimes problems are serious and need additional support. Whether they are physical or psychological, they can impact a person's ability to do their job. This should not carry any stigma
Look ahead and plan with a view to considering staff stress

In the 'busy season' (Nov-Mar) look at calendars to trim things that can be moved to different points in the year
Plan a staff wellbeing day near the end of Nov one side of a weekend and a staff training day the other side of the weekend as a little bit of light relief in the build up to Christmas to support staff and student wellbeing
Develop structures that enable staff to contribute throughout the year on decisions that affect their wellbeing and their workload
Your role, and that of the governing body, should focus on providing the right sort of work environment, so as to minimise the risk of staff experiencing work-related stress potentially leading to mental ill health. The establishment of a school safety committee with representative trade unions involved or consulted, provides a useful forum for discussions about strategies to reduce stress levels among staff
Acting to reduce levels of stress within your school will lead to less short and long-term sick leave which will, in turn, reduce pressures on other colleagues as well as benefiting pupils
Stress can come from primary and secondary sources – work may be the primary source

Often primary and secondary stress combine
You will have less influence over family stresses, but you can support your staff to address these or signpost them to specific support
Work will be a haven for some, so good support at work will help staff weather home-life difficulties
You will be more able to help with the work-related stress
Workload is identified as the main issue for 70% of staff who are thinking of leaving their jobs and for 80% of leaders considering the same decision. It is something to be taken seriously by leaders and governing bodies, for all staff, including you
Be aware that people perceive workload as a problem when they can't find an effective balance between the demands of their role and their wellbeing. Listening and then developing strategies together is likely to be more helpful than making decisions and setting up systems on behalf of staff to address workload
How people manage their time is best decided by the individual, but how you set out the work expectations of each staff role is led by you. Workload can be better balanced with clear and agreed job descriptions (regularly reviewed); reasonable warning of meetings and events; clear timescales; dates and deadlines published for the year; to name a few. These strategies all enable people to better manage their workload in a way that works for them. Make sure this works for you too
Trade union representation is helpful in workload consultation
Remember that stresses at work can and do lead to stress at home and vice versa. We all live in social networks. Remember the importance of these crucial relationships as a workplace leader
Stress can build up; staff and team members may begin to struggle, become distressed or ill without a single major event
Be aware that if this is happening to you then it may impact on your ability to support others in similar circumstances. Skill up and trust your immediate team to offer support to staff too. It doesn't always have to come from you
Times of crisis call for tough decisions. Be the leader you would like to be faced with in a crisis

'Command and control' mode can give an impression of reliability in the immediate aftermath of a crisis, but it is not sustainable. For stressed and vulnerable staff, this model risks compounding their difficulties and wellbeing
Distributed leadership with a shared purpose, can strengthen team wellbeing
Compassionate leadership is important for alleviating organisational stress
Look to the strengths of your team and trust them to do their job
Communicate changes and decisions with clarity. Uncertainty heightens anxiety
Together, find ways to keep your teams together, particularly when staff are not on site at the same time
Notice the positives in the practice you see around you and let people know when they are doing well
Prioritise staff wellbeing in the period after an incident or period of crisis

Have a system for debriefing (one-to-one) or decompression (within a team): for more description of operational debriefing see our tips, Looking After Yourself & Each Other in Education Settings
Allocated times and systems for reflection or decompression are a good way to relieve the build-up of pressure during school life and especially after particularly stressful periods, through sharing and learning from each other
Decompression is about letting off steam in a healthy, supportive way with boundaries
Learn from experiences together, in a none blaming way
Support staff to better consider, interpret and understand the causes and intentions of their own and others' behaviours, thoughts, and emotions (mentalisation)
Balance the value of this time with other priorities for team and whole staff time
Make sure all staff can take part at times they are paid for
These meetings should follow the rules of no critiquing, and there should be no compulsion to speak. Everyone should be given an opportunity to do so
Ensure staff do not feel compelled to talk about experiences they do not feel ready to talk about
The sharing must be blame-free, reflective, kind, and supportive. If you need to address poor performance, that should be done at another time
Use what you say to open up sharing rather than shut it down. You will all learn more from each other this way
This style cascades and helps foster compassion and positive attitudes to each other.
Managers and team leaders should acknowledge their own limitations. This links to notions of transparency, integrity, and resilience in leadership. A balance often needs to be struck between how much you expose your own limitations and how much you ensure those limitations are mitigated by you on behalf of all you are responsible for
They too may need to be looked after. Their wellbeing is a top priority; a stressed and burned-out leader will affect the wellbeing of all team members
Include a clearly communicated system for emotional support and debriefing for staff following a critical event or an incident involving physical intervention. This must be recorded and regularly reviewed to inform training and safeguarding
Seek advice after a stressful event

Two minds are usually better than one, especially when both people have walked in similar shoes
Reflect carefully on what you say and what others say to you
Be aware that talking through an event or incident again may trigger emotions you felt at the height of the event. This is okay and normal. Take time to allow reflections as well as searching for facts
Don't feel compelled to talk to external managers before you are ready. Ideally, any debriefing should happen when you are calm following an event, not whilst you still have heightened feelings, or during a post event low mood
Recognise the tension between performance management and someone's wellbeing when they are not doing their job well over a period of time

You may have staff who experience anxiety, sadness or low mood for prolonged periods without their needs being medically diagnosed. It is helpful to behave with compassion and calmness, but also to maintain clear boundaries. For example, frequently coming to work late is not okay and would need addressing; recognising that coming into work is causing initial anxiety for a staff member, does open the way to finding a solution together, that works for the class and the staff member. It is a reasonable expectation of an employee to focus on work delivery/work quality; it is part of your role as a leader to ensure they are able to do so 
Good line management practices are key: clarity of communication, two-way conversations, consistency, transparency, joint agreement of reasonable next steps and the right to reply
There should also be clarity about any important milestones or decision points in a situation where there is ongoing, unresolved poor performance
Share policies with all staff that are informative and supportive to them doing their role well, including attendance, capability, health and safety, pay and wellbeing policies. Make sure these have been written with staff and are accessible to all 
If a member of staff has a diagnosed mental health issue it will be important to work together to agree reasonable adjustments for the individual, in line with their needs and the requirements of their role. your human resources or personnel department may be useful in supporting you and the empoyee
Ensure there are clearly defined and well communicated pathways to more specialised help and care

Make sure staff know how to access occupational healthcare
Communicate to a staff member how the process of referral works and do this with them, not to them
Occupational Health will be able to assess any needs which may be a current barrier to a staff member being able to carry out their role, including mental health needs
A referral to Access to Work may be appropriate for those needing additional help to manage a long-term learning need or disability within the workplace
Communicate widely information about any other support or specialist agencies that are available through service level or local agreements
Support staff members with lived experience seeking help for ill mental health to share their example with others
Promote confidential and anonymous ways of seeking help for those who may feel reluctant to initially engage, e.g. Drinkaware and domestic abuse helplines
Resources
For yourself and for those in your education community.
Within education settings

Wellbeing or mental health policy should offer local sources of support
Occupational Health – in most local authorities you can self refer, or work with your senior management to arrange a referral. Within academies you may have access to OH as an external service
You may have access to an employee assistance provider. If this information is not easily available within your setting, check with your Human Resources/Personnel department. Education Support offer an Employee Assistance Programme for the education workforce. In addition, a list of employee assistance providers in the UK can be found here
Access for Work may be able to support staff who have long term learning or health difficulties that impact on their ability to perform their role. They can offer advice and support to manage anxiety and stress relating to disabilities such as dyslexia and Autism
DfE Education Staff Wellbeing Charter
HeadFit - aimed at the military but with some application to education
Other support groups and caring organisations you may find helpful include:
References
Fonagy, P,  Luyten, P. (2009). A developmental, mentalization-based approach to the understanding and treatment of borderline personality disorder. Development and Psychopathology, 21:4, p1355–1381
Greer, J, (2020). Essential Guides for Early Career Teachers: Workload: Taking Ownership of your Teaching. Critical Publishing
Jones, N, Fear N.T., Wessely, S., Thandi, G. and Greenberg, N. (2017) Forward psychiatry – early intervention for mental health problems among UK armed forces in Afghanistan European Psychiatry 39, 66-72
Kwatubana, S, Molaodi, V, (2021) Leadership styles that would enable school leaders to support the wellbeing of teachers during COVID-19, in New Challenges to Education: Lessons from Around the World: BCES Conference Books, 19 p106-112
Lind, M., Hagelquist, J. Ø., & Rasmussen, H. (2020). Mentalization-based principles within the organization: Elevated empowerment and lower depressive symptoms. Current Psychology: A Journal for Diverse Perspectives on Diverse Psychological Issues. doi.org/10.1007/s12144-020-00749-6
Milligan-Saville J.S, Tan, L, Gayed, A, Barnes, C, Dobson, M, Bryant, R.A, Christensen, H, Mykletun, A, Harvey, S.B. (2017) Workplace mental health training for managers and its effect on sick leave in employees: a cluster randomised control trial. Lancet Psychiatry, 4 p850-85
Solomon Z, Mikulincer M. (2003) Trajectories of PTSD : A 20-year longitudinal study. American Journal of Psychiatry, 1:63 p659–666
Stevenson D, Farmer P. (2017) Thriving at Work: The Stevenson/ Farmer Review of Mental Health and Employers. Department for Work and Pensions and Department of Health and Social Care
Van der Vyver, C. P.; Kok, Me T.; Conley, L. N. (2020) The Relationship between Teachers' Professional Wellbeing and Principals' Leadership Behaviour to Improve Teacher Retention, in, Perspectives in Education, 38:2 p86-102
Waters, L, (2017) Visible wellbeing in schools: The powerful role of instructional leadership, in Australian Educational Leader, 39:1 p6-10
Acknowledgements
The content for these tips was written and edited by Dr Raphael Kelvin and Dr Julie Greer. They draw upon the suite of tips on the MindEd Hub and input from our reference groups of healthcare and education setting experts, to whom we are most grateful. 
Education reference group:
John Dexter, John Ivens, Margaret Mulholland, Steve Rippin, Jason Turner
Wider stakeholder group:
Joanna Holmes, Lisa Shostack, Mina Fazel, Sinead Mc Brearty, Andy Bell, Ray McMorrow, Faye McGuinness, Sarah Hannifan, James Brown, DFE (Emma Woodshaw), Sarah Lyons, Steve Cooper
Disclaimer
MindEd is created by a group of organisations and is funded by Health Education England, the Department of Health and Social Care and the Department for Education.
elfh is a Health Education England Programme in partnership with the NHS and Professional Bodies.
© 2022 Education Support Limited, MindEd / Royal College of Psychiatrists and Health Education
Helpline
Don't wait for a crisis to call. 

We'll offer you immediate, emotional support.

08000 562 561
Helpline